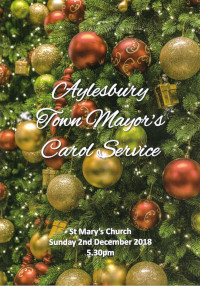 On 2nd December the Band returned to St Mary's Church, Aylesbury, to take part in the annual Mayor's Carol Service. The service was led by the rector, Reverend Doug Zimmerman, with readings by the Mayor of Aylesbury, Cllr Mark Willis, Mr Stephen Archibald, CEO of CarersBucks, David Lidington MP, and other community leaders.
Before the service, the Band played When a Child is Born by Ciro Damicco ("Zacar") and Fred Jay, and Christmas Festival by Leroy Anderson. Then the arrival of the Mayor's Procession was announced by Fanfare for Christmas by James Curnow. As well as the lessons and carols, in which the accompaniment was shared by the Band and the organist, there were musical contributions from several other groups. The Church choir sang Jesus Christ the Apple Tree by Elizabeth Poston, Bedgrove Junior School Choir sang Lo, a Rose E'er Blooming and The Song of the Magi, and Aylesbury Choral Society sang On Christmas Night All Christians Sing and Past Three O'Clock. The Band also provided a couple of musical interludes of its own, Midnight in Bethlehem (Away in a Manger and O Little Town of Bethlehem arranged by Warren Barker) and Mary's Boy Child by Jester Hairston, arranged Philip Sparke. To round off the service Everyone sang We Wish You a Merry Christmas to the accompaniment of the Band.
One last tradition remained. While councillors from Aylesbury Town Council and members of Aylesbury Lions served mulled wine and mince pies to the congregation, the Band played The Proclamation of Christmas by Stephen Bulla and Jingle Bells.