June this year is shaping up to be the wettest since records began, and as the date for Cublington fête approached, the weather forecasts suggested that heavy rain on the day might prevent the event happening at all. Fortunately although the day was overcast and windy, the rain held off for most of the afternoon, which must have been a great relief for the organisers.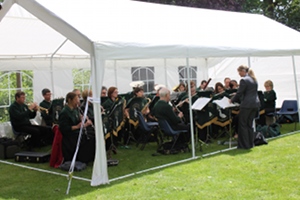 After last year's experience the Band set up in a fair sized marquee, which helped to shelter us from the wind. Before our first session the Master of Ceremonies announced that we were going to play, and remarked that one of the players was "local celebrity" Ali Lovatt, much to her and our amusement. Conductor Claire Lawrence led the band in the march Trafalgar, and other popular pieces such as Birdland and Chitty-chitty-bang-bang.
There was meant to be an inordinately long gap of an hour and a half before our second session, but a display of "Street Dancing" ran into trouble getting their sound system to work (hint: use live music!) so the Band was asked to play instead. As we left, half an hour earlier than expected, a few drops of the inevitable rain began to fall as we walked to the car park.
This was the Band's first engagement since February. In previous years we played at the annual Mayor Making in May, but now this has moved to Aylesbury College following the closure of the Civic Centre, the council decided not to have us play this year. Instead we have been making use of the time to work on improving the Band, and rehearsing some harder pieces which we can perform later in the year.