Aylesbury Concert Band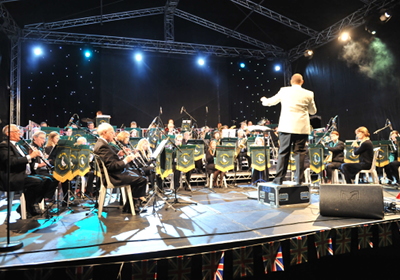 Made up of enthusiastic amateur players from Aylesbury and the surrounding areas, Aylesbury Concert Band is a wind band serving the community of Aylesbury in Buckinghamshire, England.
The band performs several concerts throughout the year as well as at civic occasions, such as the Mayor's Carol Service each Christmas. As well as providing music for fêtes in the summer, Aylesbury Band is the centrepiece of each year's "ParkLife" festival in August, performing a "Proms" concert to an audience which can number over a thousand if the weather is good.
The Band has entered the National Concert Band Festival a number of times and has won several awards, including a Gold award in November 2012 followed by Silver in the National Final in Birmingham in April 2013. The aim is constantly to improve, at the same time making membership of the band enjoyable for players of all levels of experience.
In addition to playing in the local area, the band has also travelled to Germany, Belgium, and the USA, taking their brand of entertainment to a wider audience.
Elsewhere on this site:
"A huge thank you from me on behalf of the town for your superb contribution to our Christmas Service! It was a wonderful, spiritual, memorable occasion and the performances from the band were an invaluable part of it. So many people afterwards told me how much they had enjoyed the music."
- Tom Hunter-Watts, Mayor of Aylesbury
"Aylesbury Concert Band is a terrific ensemble and they put on a hugely enjoyable show interspersed with lots of foot-tapping numbers."
– Mrs E.B. (Wendover)
"I just wanted to say how much we enjoyed the Eaton Bray concert, the children loved it (ages 2 and 7) and it engaged them and interested them throughout. Your conductor had them hanging on every word and the band on every note. Thank you very much."
– E.M. (Eaton Bray)